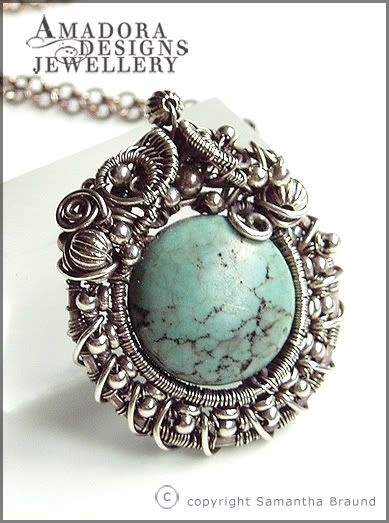 One of my latest wire sculptured necklaces. Sterling silver encasing a gorgeous turquoise gemstone.
I'm in a fab mood.
It seems like there is a possibility of becoming a member of the local arts council, and in doing so, will be able to recieve mentoring, funding and contacts e.g for exhibitions etc
I have to apply, before the end of the year, and if the panel of judges think I'm worthy, I become a member and get one to one mentoring within the design community!
Also along the same lines, there is a gallery I am going to apply for, which has a highly regarded rep.
There are also a few Events I qualify to apply for based in London, at the heart of the creative design scene
So although nothing has actually happened LOL, I am thrilled and motivated by the idea of what could happen. I feel really inspired to come up with some amazing pieces, before the application deadlines, so that I can include them with the forms
Wish me luck!!!