I've collected miniature Venetian Masks, since my first visit to Venice as a teenager. They've always seemed to be enigmatic and glamorous.
I decided to have a go at creating a mask, out of polymer clay.
Sculpting faces was tricky at first, with some comical effects at times, but I managed to come up with a few decent ones, after a bit of practice.
Creepy aren't they, when not decorated...
I chose this one to adorn first
I used some antiqued music paper (from Deviant art resources),polymer clay,and acrylic paints to create the effects.
It has turned out so beautiful!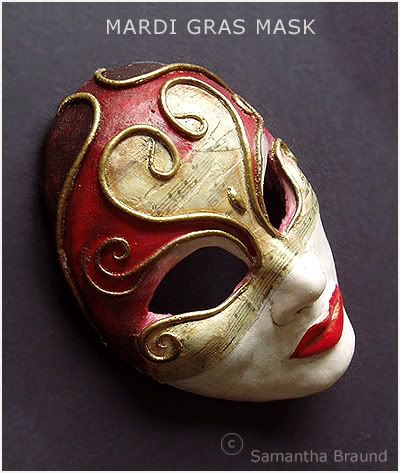 The next stage is to set it on an MDF base, and to add embellishments to the crown of the head. At the moment, I'm thinking I may go with a court jester head dress, with an abstract background...but I'm not sure
Anyway, it will be fun to experiment with :)