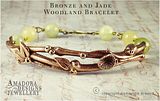 ----
I'm still loving my new Bronze clay sculpting.
I am starting to think, it might be my new favourite medium - I'm afraid it does have to do with cost.I subconsciously design smaller pieces in silver, because I'm aware of how much an ounce is costing me
The price of silver is becoming extortionate, whereas Bronze is extremely affordable.Of course this means I can charge less to potential customers, so everyone wins.
My latest piece is something I am really happy with. It's another woodland inspired piece.
Its a bracelet of twigs and branches, covered in little leaves and fungal forms. The piece is sculpted in bronze, and is embellished with Jade beads.
I love the contrast, and the green tones of the beads, adds to that forest feel
Its really comfy to where to0 - I've been wearing it all day yesterday.I couldn't help it LOL
All the images are clickable thumbnails. That way you get some lovely closeups of the details
Enjoy the pics!!
----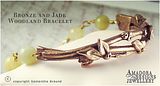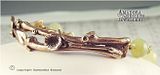 ----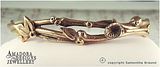 ----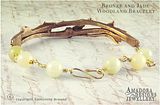 (Loads of pics aren't there!... I really must love this one)