My name is Samantha Braund
I am a happily married Jewellery Designer and artist
I tended to jump from one art medium to another. I had a background in watercolour painting, and dabbled extensively in digital art
Over the last few years, I discovered jewellery making, and loved this art form.
This is one hobby that has stuck LOL!
I started with wire sculpted artisan jewellery, and am now exploring sculpting polymer and precious metal clays, as well
I intend to start selling my jewellery creations, and make a living doing something I love:)

I muse over current affairs and make random funny posts on occasion.
Most of my posts are jewellery related. I talk about inspirations, and show lots of pretty pictures of the latest collections and pieces, I'm working on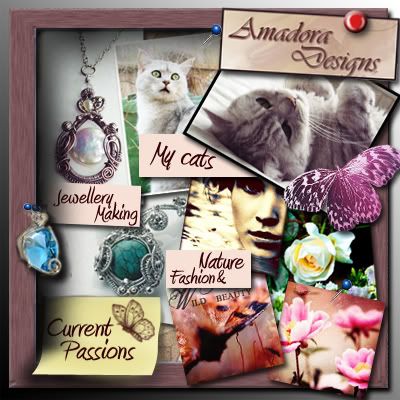 As you can see from my virtual corkboard I find lots of things inspiring LOL
My jewellery is primarily influenced by organic forms as seen in nature on the whole
I also draw from Ancient mythologies, prose, literature and movies too.

There are two main ways I go about creating my jewellery.
I do sketch a lot, and am constantly drawing these organic structures, that resemble natural elements.I then try hard to recreate these images into wearable pieces of art
The other method, is really where, I go with the flow guided by the medium at hand.
There is sometimes a theme in mind, or an idea of how to present a gemstone, but essentially I paint, or sculpt my jewellery without much forethought.
As a result my jewellery is known to take on a freeform organic style. I find it virtually impossible to recreate something, because of the methods I use
The good news though, is that each piece of jewellery tends to be unique and one of a kind
~~~~~~~~~~~~~~~~~~~~~~~~~~~~~~~~~~~~~~~~~~~~~~~~~~~~~~~~
Anyway thanks for stopping by, and I hope you enjoy browsing around
There are links from here to my jewellery gallery, which is chock full of eye candy.
I also have a Shop bulletin board blog, which will have notices of sales and features pertinent to the online shop solely, so feel free to subscribe to that blog if you are after updates only
The online store is also linked, and will be going live in April 2010. I am in the process of finishing off the site, and creating the jewellery for it.
Samantha Braund